Omnix Medical is building a pipeline of first-in-class, leading edge anti-infective, all of which are designed to treat severe, potentially lethal infections associated with multi-drug resistances. Omnix Medical's professional and clinical advisory teams are deploying vast and diverse experience to plan and execute all that is necessary to bring our pipeline to the market quickly and efficiently.
Omnix Medical's pipeline maintains three major programs.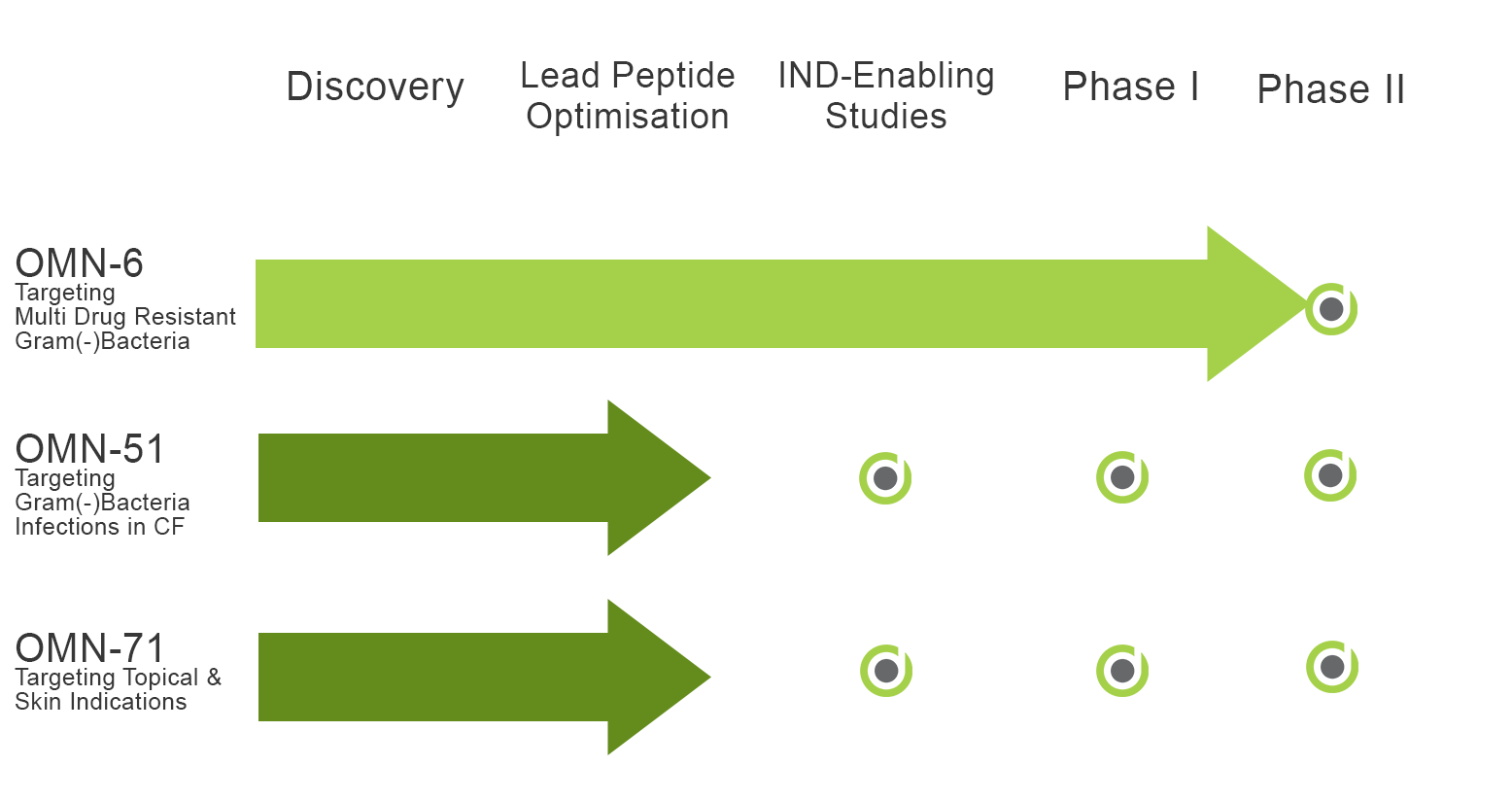 The Company's lead compound OMN6 targeting Gram-negative bacteria is currently being evaluated in a Phase-I trial in The Netherlands. OMN6 is being tested in a randomized, double-blind, placebo-controlled, single ascending dose trial assessing safety, tolerability, and pharmacokinetics in healthy subjects. OMN6 has been found safe, stable and highly effective on multidrug-resistant Acinetobacter baumannii (AB), especially Carbapenem-resistant AB (CRAB), the #1 priority pathogen according to the WHO/CDC. This compound is being developed as systemic IV treatment for patients suffering from severe or life-threatening infections. OMN6 has been designated Qualified Infectious Disease Product (QIDP) by the FDA for the following indications:
Hospital/Ventilator Associated Bacterial Pneumoniae (HABP/VABP)
Blood Stream Infections (BSI)
Complicated Urinary Tract Infections (cUTI)
OMN-51 is a new antimicrobial peptide (AMP) targeting Gram-negative bacteria like P. aeruginosa which causes recurrent and persistent infections in patients with Cystic Fibrosis (CF). Cycles of infection and hospitalization promote the development of resistance that significantly reduces treatment solutions.
OMN-71 is a new antimicrobial peptide (AMP) targeting bacteria involved with skin infections in patients with Acne or Atopic-Dermatitis. When infections of the skin involve MRSA or P. Acnes high levels of resistance are present and treatment becomes hard and prolonged.
Intensive and comprehensive preclinical research is being conducted at Omnix Medical Laboratories to bring OMN51 and OMN71 to clinical development in parallel with the filing of appropriate patent applications.